Status:

Retired


Debuted: Ani-Magic 2004
Time: 3 weeks

Chii (or, in my case, Freya) is from the comic named "Chobits". Mostly, I created this costume because, quite simply, I was

bored

. I created it, also, because I was jealous of all of those other Lolita outfits I've seen and I wanted to try and create one myself. I (in my opinion) failed at the whole "lolita" concept, but I tried. The wig was the only thing I didn't spend any money on. It had gone to the

Inu Yasha Costume

, which was borrowed from my friend for the day.

At Ani-Magic of 2004 I also participated in a Chobits gathering. Lots of people took our pictures, and I believe this was the very first time I had actually been subjected to, what I referred to at the time, snap-happy photographers. It was very odd for me, not being a very good cosplayer at the time, to be subjected to all of those cameras, but it was still fun. Sadly, I believe my ego inflated some since that time...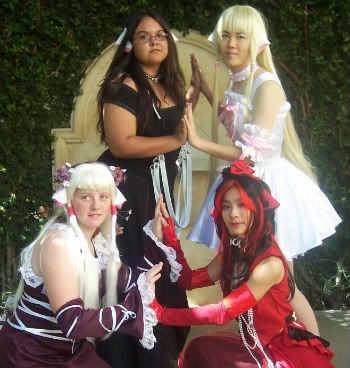 After I had gotten home, I unknowingly dropped my Chii ears on the floor of my room and since then, my rabbit has eaten them. I had to make new ones to wear the costume the year after that, but, once again, my bunny ate my ears. Now, all I have left of the headband is the headband and *some* of the flowers.