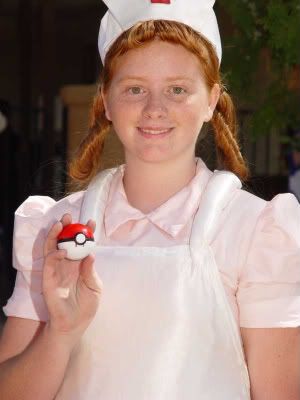 Status:

Retired


Debuted: Valentine's Day 2004
Time: January 2004 - February 2004

Nurse Joy was a costume that I just randomly and spontaneously decided to do. I had always like Pokemon, and one day I got to looking at one of her cards from the Trading Card Game and I noticed that with my long hair I could easily put it up just like hers. After that is when we just decided to make Joy.

Using a pink dress I managed to find at the secondhand store, the only real thing we had to make was the apron and nurse's hat. The apron was made from a silk fabric, the shoulder straps stuffed with cotton to make them puff out. When it came to the hat, we went the cheap way and got a painter's hat from Home Depot then used the same white silk from the dress to make the top part and a piece of red-dyed leather for the cross.

This costume was cute and a lot of fun to cosplay as, and I'm quite sad that it doesn't fit me any longer; my tatas are just too big now.

Version 2.0
Status:

Retired


Debuted: Ani-Magic 2006
Time: 10 minutes

Since my old Joy didn't fit me any longer, I had decided just to make another. Or rather, my mom bought a $5 pink dress from the secondhand store and prompted me to make a new Joy. All I did to make this Joy was take the apron off of the old dress and tack it to this one. This is the last time I've ever seen my hair be that long (directly after this shoot I cut it really short).

It lasted about a year and then my busty chest just got too big (again).