Status:

Completed


Debuted: Comic-Con 2007
Time: May 2007 - July 2007

The Green Raver, a random Rave cosplay of mine, cost me $105 total since all of the pieces of this thing were bought and used exactly how they were. Every year for Comic-Con I buy a bunch of multicolored glow sticks and then sell them, usually making about $100 every year.

The costume, originally coming just from the purchase of some Tripp NYC. pants, is loads of fun. The picture above, coming from an associate from Gametap, is the best one that has my picture on it so far. I really like this costume because it gets a lot of attention (and because I have huge boots that make me several inches taller :D). Having a Rave costume lets me add to it every year. If I find something that I really like or that I think would go great with the costume, then it gets changed, adding another item to it and, most of the time. taking another one off.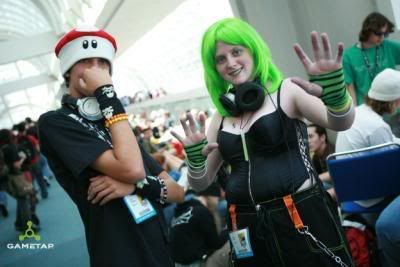 This costume consisted of a green wig, orange and green Tripp pants, large black boots, a black shirt, green and black arm warmers, my iPod and giant headphones blasting out Trance, and loads upon loads of kandi and glow sticks.