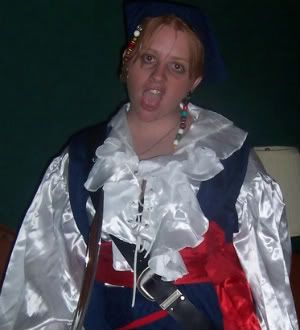 Status:
Completed
Debuted: Ani-Magic 2005
Time: July 2005 - August 2005
My personal favorite costume, Banjou is an original Cosplay. A Pirate design that was originally made for my father, I dropped the measurements dropped down so that I could make one the same as well. The costume is quite comfortable, and I love wearing it around (not because I get attention, but because it's comfortable. LAWL.) The boots that are used for it are kind of hard after I've worn them all day, but they're not really that bad. The whole costume fits quite nicely, and I still wear it to Comic-Con every year for their "Unofficial Pirate Day".